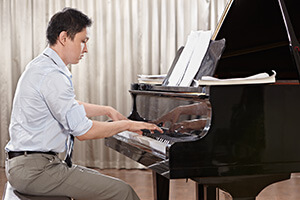 We have taught a wide range of adult students through our adult private piano lesson program including a retired gentleman, young moms, lonely hearts, salespeople, an aspiring singer, professionals, etc. The list also includes parents who started lessons after they saw the fun their own kids were having in their lessons. Musical parents usually play duets with their students at every piano recital. What a great family experience.
Adults who have prior training can brush up on their existing skills and then expand into new musical territories.
We utilize a popular instructional series and there are many supplemental books which accompany the method book and broaden the repertoire at a similar level of difficulty, such as: Greatest Hits, Pop Songs, Christmas, Duets, Finger Aerobics and Theory books, all of which adults enjoy as part of their musical studies.
Improvisation is explored with each student. This provides a path for musical creativity and can bring great "unscripted" enjoyment at the piano.
Adults generally have pieces that they have always wanted to learn. Some adults pursue the classics, such as works by Chopin, Mozart or Beethoven, while others favour movie themes, musical theatre and popular music: Themes from movies such as Harry Potter and Skyfall; music from musicals such as Phantom of the Opera; and songs by Elton John, The Beatles, Blue Rodeo, Guess Who, Supertramp, Kiss, Boston, The Eagles and Fleetwood Mac, to name a few.
The sky is the limit when it comes to repertoire, as most favourites can be found in editions for any skill level. It would be our pleasure to spend an hour a week with you in pleasant harmony.
Contact us to learn the wonders of music. To get more information or to book a free trial lesson* fill out our contact form or give us a call.
We will answer all of your questions in a timely manner.
*Some Conditions Apply