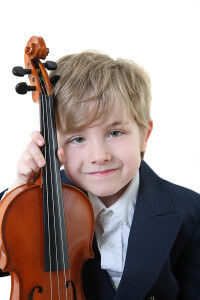 Violin Lessons
Upbeat Piano Studio now offers violin lessons, available as private, in-home lessons in East York, North Toronto and North York locations as well as at Leaside Presbyterian Church on Saturdays.
The violin is perhaps one of the best-known instruments in classical music, but it has many other applications as well. Violin appears in nearly every musical genre, particularly jazz, rock and pop, and when played as its folk counterpart, the fiddle, it forms the basis of many types of world music. It is excellent for melodies and can produce a wide range of notes, making it an extremely versatile instrument. Violin is a popular choice for those new to the world of music lessons.
Violin, along with many other types of music lessons, is much more than just a hobby. Numerous, long-rage studies have shown repeatedly that music lessons offer all manner of cognitive and social benefits, especially in children. The longer a student persists in making music, the greater the rewards. Creating music wires the brain to be more receptive to verbal and auditory input. This means that musical kids absorb new information better and have stronger recall than their non-musical peers. This can lead to great gains in a wide array of disciplines, including reading, math and science. Music lessons also help kids and adults improve social skills, such as communication and empathy. At Upbeat Piano Studio, we are passionate about building a lifelong love of music in all our students. Our staff of talented, professional music teachers places great value in making students comfortable with their lessons by meeting them just where they are in their musical journey, and by making their chosen instrument relevant to everyday life. We look forward to sharing the gift of music with you or your child.