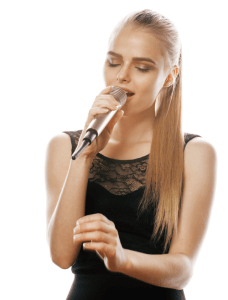 Have you ever watched televised singing contests or musical awards shows with envy, wishing you could belt out a tune that would leave listeners teary-eyed with joy? Even if your current singing abilities leave much to be desired, you can work toward your goals with singing lessons. The voice is an instrument, and as with all instruments, professional training and dedicated practice lead to great improvements. We now offer singing and voice lessons for all ages.
Singing and voice lessons offer numerous benefits beyond just improving your voice. It's a great way to introduce children to the world of music, and students soon learn that faithful practice pays off. It helps children build self-esteem as they find themselves developing a new ability. It encourages excellent study skills, such as focus and discipline. Vocal lessons improve verbal and communication skills such as public speaking, and may even help children overcome certain speech impediments. Numerous studies have demonstrated that children who are involved in music tend to be more creative, have a better understanding of mathematical concepts, develop higher-level thinking skills, and generally get into less trouble than their non-musical peers. Most importantly, singing and voice lessons provide a safe outlet for self-expression, leading to personal growth for people of all ages.
It's never too late to start singing lessons. Whether you are singing in a choir or the shower, wanting to dominate karaoke night with your friends, auditioning for musical theatre roles, or just for the pure love of singing, we will work with you to achieve your goals. Our teachers are experienced at helping students to improve their sound and their confidence! Call today to learn about our singing and voice lessons.