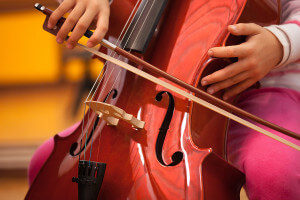 Upbeat Piano Studio is pleased to add cello lessons to our lineup of offerings. Cello instruction is available as private, in-home lessons in the East York, North Toronto and North York, or at the Leaside Presbyterian Church.
The cello is often a crucial part of an ensemble, orchestra or band, but is also excellent in solo performance. It has made appearances in rock and popular music, including songs by Nirvana, Arcade Fire and the Avett Brothers, as well as in classical and jazz compositions. The cello is larger than the violin and produces a lower-pitched sound. While a great choice for students of all ages, elementary and middle school-aged students seem to be partihttps://web.archive.org/web/20171019095209/http://www.theavettbrothers.com/cularly well-suited to beginning cello lessons.
Music lessons are one of the most beneficial extracurricular activities a child can participate in. In addition to the self-confidence built by developing a new skill, learning an instrument such as the cello offers a multitude of benefits. Practicing the cello improves fine motor skills such as finger dexterity and hand-eye coordination, and it encourages healthy posture. Children (and adults!) who take music lessons experience many cognitive advantages over their non-musical peers, including sharper memory, increased attention span, stronger self-discipline and advanced verbal skills. Studies have shown that these gains increase the longer a student persists in taking lessons. With that in mind, our goal at Upbeat Piano Studio is not just to teach a student how to play an instrument, but to instill a lifelong love of creating music. We find that the best way to keep our students motivated and dedicated is to convert them to music enthusiasts. Our instructors take the time to learn the best ways to reach each student, and they take great pride in helping students fulfill their potential.
Our dedicated, professional staff is eager to share the many advantages that accompany the gift of music. Time slots fill quickly, so please contact us as soon as possible to reserve cello lessons for yourself or your child.
Contact us to learn the wonders of music. To get more information or to book a free trial lesson* fill out our contact form or give us a call.
We will answer all of your questions in a timely manner.
*Some Conditions Apply